QMG grows in Kuopio by acquiring Sähköasennus Virtoo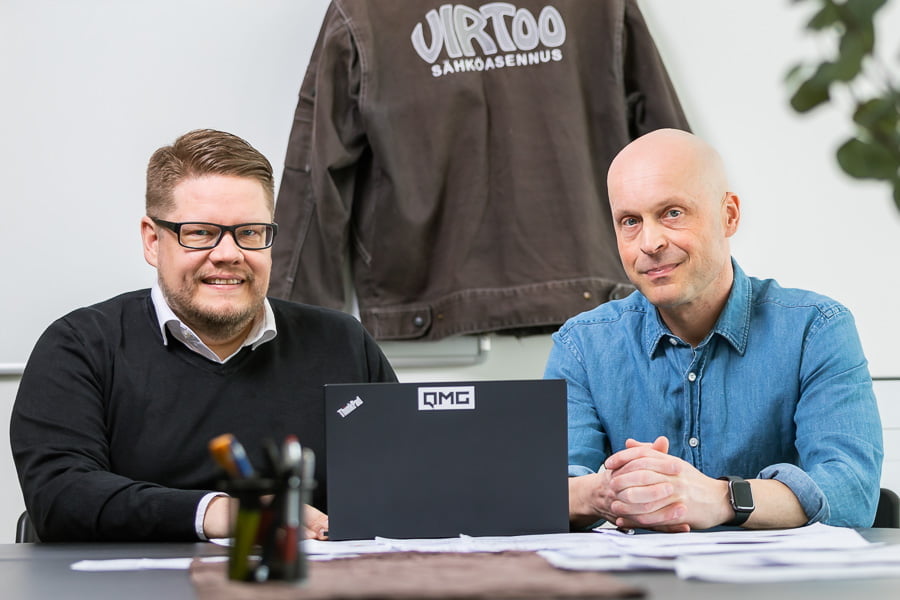 Building technology group QMG is to acquire Virtoo Oy, a Kuopio-based electrical installation company specialising in the renewal and maintenance of electrical systems. QMG is interested in North Savo, confirms Regional Director Mikko Sahikallio.
QMG acquires Virtoo, an electrical installation company founded in 2010 and known as a customer-oriented electrical service company in the Kuopio region. The company has a turnover of approximately EUR 1.7 million in 2022 and employs 12 electrical professionals.
The transaction will have no impact on customer contracts or on the status of personnel. All staff will continue to work as existing employees. Antti Pitkänen, founder and Managing Director of Sähköasennus Virtoo, will join the ownership program of QMG's parent company Nimlas Group.
– Virtoo, which focuses on service business, is an excellent complement to QMG in North Savo. We already have a branch of the electricity contractor Paikallis-Sähkö here. The companies have different priorities, so they do not compete with each other. In addition, Kuopio and North Savo is such large market that there is plenty of demand for electrical work. We want to compete here with our versatility and growing resources, says Mikko Sahikallio, QMG's Regional Director for Central Finland.
Antti Pitkänen, who will continue as Managing Director of Sähköasennus Virtoo, sees that the demand for electrical services is growing.
– We serve construction and renovation companies, maintenance companies, housing associations and industrial plants. Our repertoire includes electrical supply and maintenance, industrial maintenance, energy saving and new energy solutions such as vehicle charging stations. The growing repair debt in real estate also includes a very high demand for upgrading electrical systems, says Pitkänen.
Virtoo was born on sabbatical leave – now the whole electricity sector needs more workforce
Antti Pitkänen took time off in 2009 to build a detached house. During the construction, he received so many inquiries about various electrical installation needs that he became self-employed in the spring of 2010, when the house was completed. The business has grown year on year, and the company has remained true to its founder's image of service and expertise.
– Joining QMG gives us a strong backing and support for management. I see having more resources to grow the company and the business is important. For the staff, this will bring security and development opportunities, comments Antti Pitkänen.
Pitkänen, who started his career as an electrician, is concerned about the number of electricians in Finland as society becomes increasingly electrically powered.
– We have been able to recruit good people ourselves, but in the bigger picture, companies have a big responsibility for ongoing training and familiarisation with new technologies. Electricity solutions are at the heart of change right now, with the growing use of renewable energy. The work is important, responsible and independent, so I would recommend the sector to young men and women who are now considering their future careers, says Antti Pitkänen.
Photo: Mikko Sahikallio and Antti Pitkänen
More information:
Mikko Sahikallio, Regional Director for Central Finland, QMG, mikko.sahikallio@qmg.fi, +358 50 477 0707
Antti Pitkänen, Managing Director, Sähköasennus Virtoo Oy, antti.pitkanen@virtoo.fi, +358 400 897 099
Sähköasennus Virtoo Oy
Virtoo Electrical Installation is an electrical service company operating in the Kuopio area, established in 2010. We provide electrical services and installations for housing companies, construction companies, property management companies and manufacturing. In addition to electrical maintenance and installations, our services include electrification services for renovation work, energy saving and solutions for charging stations, among others. Virtoo employs 12 professionals and had a turnover of approximately EUR 1.7 million in 2022. Read more at www.virtoo.fi (in Finnish).